Who We Are
Hello and welcome to Morayfield Veterinary Surgery.
Our Surgery has been established for over 30 years, a locally owned veterinary clinic, serving Morayfield and the surrounding suburbs. We are passionate about offering the highest standards in veterinary care.
We have a dedicated, loyal team of senior vets and nurses, that strive to offer the best possible care for your pet. We are proud of our team. With excellent customer service and commitment, we can offer continuity of care, with a wealth of experience.
It is our devotion to ALL animals, our furry and feathered friends, that is unsurpassed. We all share the joy and unconditional love our pets bring to our lives. We have the compassion, devotion and knowledge to offer the best possible care.
We look forward to meeting you and your pet soon.
Dr Jenni Anderson BVMS BSc
Practice Owner and Principal Veterinarian
Hi! My name is Jenni Anderson, owner of both the Morayfield and Narangba Veterinary Clinics.
I graduated from Murdoch University Perth in 2002, and began my career in mixed animal practice in the South Burnett, working between three busy clinics. The experience that I gained there was very broad, encompassing dogs, cats, cattle, horses, goats and pigs. The work was always an exciting challenge, and it proved an invaluable grounding for my future career.
With a young family of three boys, we relocated to Brisbane in 2005, where I started work at the Morayfield clinic. The transition was certainly favourable for my children and career, and in January 2008, I became a partner in the clinics and took over full ownership in 2017.
As a vet, I am very fortunate to be immersed in a career that I love dearly. I enjoy every aspect of small animal medicine and surgery, its trials and tribulations, and the special bonds we make with pets and clients alike. All the while, being supported by a dedicated, loyal and committed team of colleagues.
In my spare time, I love to be able to catch up with family and enjoy the challenges of triathalons.
Dr Lolene Hamilton-Browne BVSc
Hi! I'm Lolene Hamilton-Browne, one of the veterinarians at Morayfield and Narangba Veterinary Clinics. I originate from Zimbabwe in Africa, and have had the privilege and pleasure of working as a vet for almost 24 years.
After graduating in 1996, I worked in Zimbabwe for a couple of years before deciding to explore the world, and moved to the UK where I worked and travelled for 6 years.
In 2004 I immigrated to sunny Australia with my 2 ginger cats, Oscar and Felix. Sadly Felix is no longer with me, but Oscar who is now 19 years old, has watched our family grow and still 'rules the roost'.
I enjoy all aspects of being a vet, and love both surgery and medicine. I love meeting all our 'furry' friends, each with their own character and personalities.
I have been blessed with 2 healthy and very busy children and try to maintain a happy balance between veterinary and family life.
Senior Associate Veterinarian
My name is Debbie Brymner and I am one of the veterinary team that work at Narangba Vet Clinic.
I graduated from the University of Queensland in 1982 and worked for several years in a range of busy practices in North Brisbane and on the Sunshine Coast. Over these years I accumulated valuable experience, mainly working with small furry creatures: cats, dogs, and native wildlife of all kinds! One of the highlights of this time was opening the Clontarf Vet Surgery and having the opportunity to see it grow into a thriving little practice with wonderful clientelle – and their fuzzy counterparts – many of whom I came to know well.
I left work to start my family and become a full time mum to my two gorgeous girls  in the mid 1990s and in the search for a greener change of scenery, we moved our young family to Maleny where we spent years enjoying a relaxed country life and the feeling of a close community.
While the girls were still young, I worked part time, until once again resumed working a full time career on the Sunshine Coast. Eventually I came to work for the Narangba Vet Clinic in 2010.
Dr Mariska Kerkhoff DVMS MSc
Hi, my name is Mariska Kerkhoff , a veterinarian from The Netherlands (hence the funny accent). I have travelled around the world and it's fantastic to be working with Australia's beautiful pets and wildlife.
I graduated as small animal veterinarian at Utrecht University in The Netherlands with a special interest in reptiles and wildlife. Sadly, my home country doesn't have much to offer when it comes to exotics, so I quickly decided to travel and follow my passion. During my studies and after, this has brought me to some interesting places. Working with sea turtles in Costa Rica must be one of the highlights! In 2015, I decided to strap on a backpack to explore South East Asia, Australia and New Zealand, to see if I could build a future here. I quickly fell in love with the country and to make a long story short: here I am!
I really enjoy meeting the lovely people in the area and taking care of their pets. Helping animals and people, providing healthcare and making a difference… that's why I love my job.
Other things I love are being outdoors in the bush or at the beach, enjoying good food with friends, dancing and other creative outbursts. To develop my artistic side, I set up a little business in making custom portrait drawings of people and pets. So after clinic hours, "www.bymariska.com" is keeping me happily entertained.
I am excited to see what the future has to bring and I look forward to meeting you at the clinic!"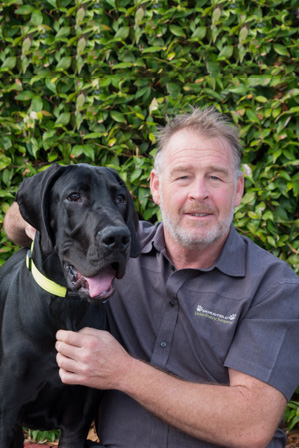 Hi, my name is Richard.
After many years in the commercial and domestic construction industry, I now have the pleasure of managing all of the business affairs of both Morayfield Vet Surgery and Narangba Vet Clinic. With the support of my lovely wife Dr Jenni, we work hard to support the wonderful team that is Morayfield and Narangba Vets.
Certificate IV Head Veterinary Nurse
G'day,
My name is Olivia and I've been with the Morayfield and Narangba Veterinary Clinic team since 2013. I came as a young highschooler looking for work experience at my local vet clinic and very quickly fell in love with the work. I found my second family with the most beautiful cohort of colleagues.
In 2018, I decided to live and work abroad in Canada for a year, where I was working as a barista, burger flipper and manager of a cafe. During that time I drove the Rocky Mountains, snowboarded Japan, cruised the west coast of America and stayed in the city that never sleeps. I feel very fortunate to have landed back in Aus and returned to my job as a veterinary nurse as if I never left.
My favourite part of my job is that it never gets boring. I love going into work everyday, knowing it isn't going to be the same as the day before. Yesterday I was working the front desk, chatting to our regular clients and seeing some of my favourite patients; and tomorrow I'll be the surgical nurse; monitoring anaesthetics, preparing patients for surgery and sending the pets home safely with their owners.
In the future I hope to own another Hungarian Vizsla, like my first dog Chloe. I also enjoy playing volleyball, snowboarding and sharing a cheese platter with friends.
Certificate IV Veterinary Nurse

My name is Kate, I first started Veterinary Nursing in 2000 as a trainee where I worked as a Vet Nurse for 10 years before having a break for children and family life. I then returned to Vet Nursing a few years ago once my family had grown.
I have had a variety of pets in my lifetime including cats, large breed dogs, pythons, bearded dragons, fighting fish, hens, roosters, chicks, ducks, pigs, piglets and a horse.
Every day in this job is different from the last and there is always something new to learn and see.
These days I have fewer pets at home but my two hens and my pint sized Papillon Mojito keep me company. I couldn't imagine my life without a pet.
Certificate IV Veterinary Nurse
Hello there my name is Nadene!
My veterinary nursing career started at the young age of 16 working in a mixed practice in a little country town of NSW.
My life has always revolved around animals, my passion growing up was horses and equestrian competition riding.
This led me to my vet nursing career, I refused to leave my horses behind to go to university.
I have worked in several practices as a fully qualified vet nurse, ranging from a small animal nurse to being head nurse in a large equine hospital.
I've also spent a year working in the outback working as a jillaroo.
I'm now residing in Narangba and loving my job working at both Morayfield and Narangba vet clinics.
Balancing my working career and being a mum of two beautiful young girls and a pretty cute Frenchie keeps me on my toes!!
Jo Austen
Certificate IV Veterinary Nurse
For as long as I can remember I have always had animals in my life.
Growing up I was the child who would bring home all the strays, much to my parent's dismay. When I left school I became a florist, but I was forever looking for the chance to work with animals in any form. That opportunity finally came in 2002 when I began working at a veterinary clinic and started my veterinary nurse studies.
In November 2004 I commenced working for Morayfield Veterinary Surgery, and soon to be Narangba Veterinary Clinic, completed my study in 2005, and have not looked back since. I can honestly say I love my job.
Veterinary Nurse & Puppy Preschool Instructor
Hi, I'm Tiffany and I'm a Veterinary Nurse at both Narangba and Morayfield Clinics. I started working as a Vet nurse in 2010 while Graduating High school.
Over the years I have enjoyed my career as a Veterinary Nurse, I find myself bringing work home, usually young puppies who have been put into unfortunate situations. I also host Puppy Preschool classes educating people and teaching young puppies manners.
I have a special place in my heart for German Shepherds. I have a 3 year old Bi-Colour long hair male who keeps me very busy.
Jami Toonen
My name is Jami Toonen and I've been working at the Narangba and Morayfield Clinics since 2015. I've always wanted to work with animals ever since I was younger. I am a very lucky lady to be working with the best, most fun bunch of colleagues that share the same love and compassion for animals like I do.
My favourite thing about this job by far is getting to interact closely with the patients on a day to day basis. Imagine being able to see and play with dogs all day? (yes, even us nurses have our favourites).I currently share the house with a Labrador called Oliver who does zoomies in just about every part of the house and a cat called Puddy that runs the show.
Overall, this job has been my dream from day one and I will always be so thankful to wake up every day knowing I'm going to play a part in some animal's life.
Veterinary Technician & Certificate IV Veterinary Nurse
My name is Jess and I work at Narangba & Morayfield Veterinary Clinic. I graduated with my Bachelors Degree in Veterinary Technology in June 2019 at the University of Queensland Gatton, and am on track to complete my Certificate IV in Vet Nursing in December 2020.
My furry companion is Kirby, a pure bred Golden Retriever, who captured my heart the moment I laid eyes on her. We share a lot of interests – sleeping, eating, and having fun outdoors, exploring new places… it's no wonder we have been inseparable ever since.
When I was young, I was fascinated with science, animals and medicine; and doing something for the natural world was always something I wanted to dedicate my life to.
I have seen and done so many amazing things throughout my degree and career in practice so far – from helping birth calves on dairy farms, developing more economically friendly ways to grow crops and nursing injured koala bears, to herding and shearing sheep, vaccinating pigs and re-homing retired greyhound race dogs.
It's been a whole lot of exhilarating, eye-opening, inspiring (sometimes tough) work and I honestly wouldn't trade it for the world.
I look forward to meeting you and your furry, feathered or scaly friend in the clinic soon!